Finding of Irrawaddy dolphin
between Historical Home range, Pyay and Mandalay after 137 years
Though the iconic and highly endangered Irrawaddy Dolphin is symbol of Myanmar's rich ecological heritage, very little is known about their population size or where they live along the Irrawaddy River. Key to protecting this threatened national treasure is understanding where the last of the Irrawaddy Dolphin survive and implementing protection programs. With this goal in mind a 10 person research team consisting of two members from a local Myanmar NGO called Grow Back for Posterity (GBP), five master students from the Marine University (Mawlamyaing and Pathein), three dolphin cooperative fishermen from an Irrawaddy Dolphin protected area and three Myanmar International Television (MITV) documentary crew. The team was organized by team leader Mr. Aung Myo Chit, the founder of Grow Back for Posterity (growbackposterity.com) and country coordinator for US based Smithsonian Institute, traveled from Pyay to Mandalay in a local motor boat. The objectives were to search for the Irrawaddy Dolphin along the Ayeyarwady River in the lower Mandalay region as well as document birds, mammals and interview local fishermen. No upstream surveys have ever been done in this lower section of river for Irrawaddy dolphin distribution since 1879. The 9-day survey occurred in late April 2016 during the Thingyan official holiday, total 57 boat hours were needed to cover 278 nautical miles between Pyay and Mandalay.

Prior to departing Pyay on April 18th, the team visited Pyay's morning market to see what fish were for sale and to interview fishermen and community leaders of Pyay Township. The team leader gave a short lecture on the Irrawaddy dolphin's behavior and explained to local fishermen why their local knowledge about the river is critical to the protection of the dolphin since they are the ones who know the river best.

After embarking the following day, the team recorded all environmental characteristics of the river environment such as wind, waves, boat traffic, and GPS location. The team used direct sighting method for surveys and interviewed fishermen they came across, living in riverside villages, on islands and along sand banks. During the survey all fish species were photographed as well as the fishing gear used by local people to catch fish. Each day of the survey, these methods were followed. Throughout the trip a total of 15 fishermen were interviewed and their catches were documented.

The team recorded that local fishermen extract various fish species from the river as well as prawns, crabs. Small and medium size extractive operations are also occurring which take pebbles; sand and water were also extracted from the river for many purposes.

Finally on the 22nd April, a single Irrawaddy Dolphin was seen between Chauk and Salay. This solitary dolphin is the first recorded in this area after 139 years and confirms the original range of the Irrawaddy Dolphin included the lower Mandalay region. While uplifting to find a dolphin, the team was very concerned about the obvious low population numbers. The Irrawaddy Dolphin is likely near extinction in this region due to over fishing, industrial extraction of riverbed gravel and unsustainable means of fishing.

The team witnessed extensive use of fine weave three layers drift nets, traps, hooks and lines. Perhaps most destructive was abundant use of highly illegal electric shock method and beach sein nets to kill all kinds of fish in various sizes (mostly fingerling) in large quantities in very short period of time. The survey team witnessed a new type of electrical cast that that is widely deployed along the river and is destroying large segments of the river's fish population through mass electrification.

More than 70 pebble suction motorboats were seen in various parts of the river which is highly destructive to the Ayeyarwady River bed and to the Irrawaddy Dolphin in particular due the extremely loud underwater noise the suction pipes make as they suck up everything on the riverbed floor. This kind of industrial extraction of river bed gravel changes the underwater landscape and further clouds the already muddy water making it impossible for the Irrawaddy Dolphin and most other fish species to survive where these extraction methods are used.

Local fishermen interviews confirmed the teams suspicion that the amount of fish caught these days is declining and many fishermen believe if these unsustainable forms of fishing continue, it will be harder to fish in the future. The team documented that sales of river fish was nearly non-existent in the Pyay fish market except from some fish aquaculture sources. Though many fishermen understood their methods of catching small fish by beach-seain net and electric fishing is drastically effecting the environment and ecosystem, they feel unable to stop unless everyone stops because the use of these methods because anyone utilizing these methods will out-fish those who do not. Therefore a 'race to the bottom' situation is occurring which can only be stopped by government implementation and enforcement of strict fishing rules.

At various points along the survey route, more than 30 years experienced fishermen stated that a group of 3-4 Irrawaddy Dolphin could be seen a decade ago but none could claim any sightings these days. Fishermen thought that the dolphin must have moved to upstream areas. One fisherman did confirm that groups of dolphin were seen over 4-5 days successively near Min Bu in 2014 during the pagoda festival of the village. This information confirms there were Irrawaddy dolphin between Pyay and Mandalay. Furthermore, the one dolphin seen by the team near a sand bank at Chauk confirms there may be some suitable habitat left even though this solitary dolphin might be the last in this area. Not surprising this dolphin was sighted in an area were there were neither fishing boats nor fishing activities as curfews were enforced there.

The extinction of dolphin in this area was due to illegal fishing activities which are threating their lives as well as the big pipes used in pebble and sand gathering causes changing of water ways, noise and habitat lost.

In conclusion, the data collected on this survey trip will contribute greatly to future dolphin protection efforts along the entire length of the Irrawaddy River. Although this survey found only one dolphin, it is highly likely other dolphins exist between Pyay and Mandalay and follow up surveys will be needed to confirm this. In order to restore the dolphin habitat and preserve critical fish protein sources for the people of Myanmar, the government needs to enforce rules that limit the use of large river bed gravel extraction and the ubiquitous use of mesh drift nets that capture everything in the river. Finally, complete and strict bans on the use of beach-sein and electric shock fishing must be implemented immediately. Such action is the only hope to protect the Irrawaddy Dolphin that has shared the river with people of Myanmar for centuries. We must act now or lose this symbol of our biological heritage.
Acknowledgement
A great has been learned those Irrawaddy dolphins are still in the area and there were good number of individuals between Pyay and Mandalay Segment. Without the support and contribution from Dabney Rohrbach dmrohrbach@gmail.com and Lis Meeker lismeeker@gmail.com this research will not happen. We also thank to Department of Fishery and General administration Department for their approval. I also thanks to cooperative fishermen from Dolphin Protected area, without their collaboration we will never get the information from the fishermen between this segment. Last but not least, I thank to Myanmar International Television (MITV) film crew for their effort and document all the activities under harsh weather.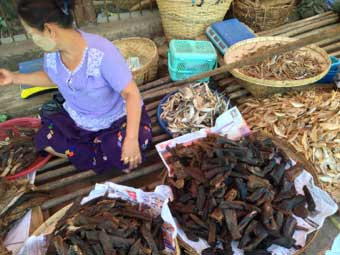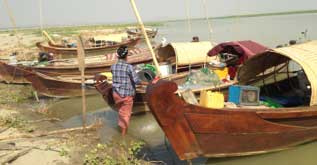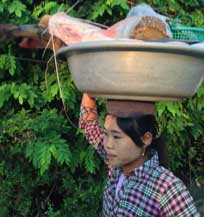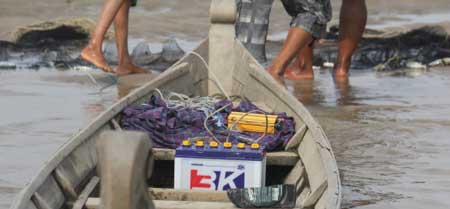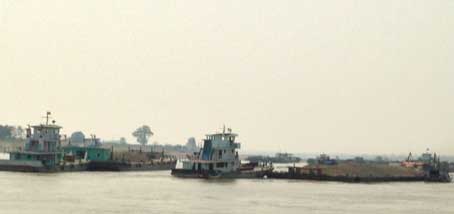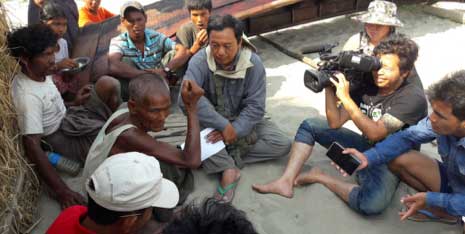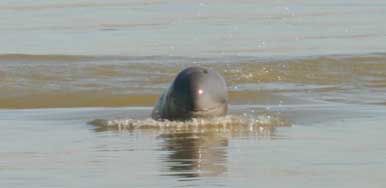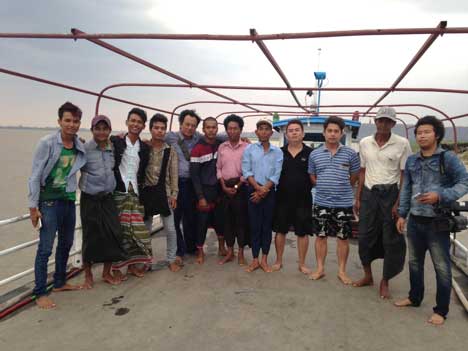 | No. | Name | Organization |
| --- | --- | --- |
| 1. | Aung Myo Chit | Grow Back for Posterity |
| 2. | Su Hlaing Myint | Grow Back for Posterity |
| 3. | Myint Aung | Hsithe Village |
| 4. | San Lwin | Myitkangyi Village |
| 5. | Aung Thinn | Myitkangyi Village |
| 6. | Htet Myat Maw | Marine University (Mawlamyaing) |
| 7. | Min Khant Aung | Marine University (Mawlamyaing) |
| 8. | Min Khant San | Marine University (Pathein) |
| 9. | Soe Min Htike | Marine University (Pathein) |
| 10. | Tin Zaw Tun | Marine University (Pathein) |
| 11. | Nanda | MITV |
| 12. | Soe Ye` | MITV |
| 13. | Ko Zaw | MITV |